Tāmaki Whānau Loving Their New Home
May 20, 2022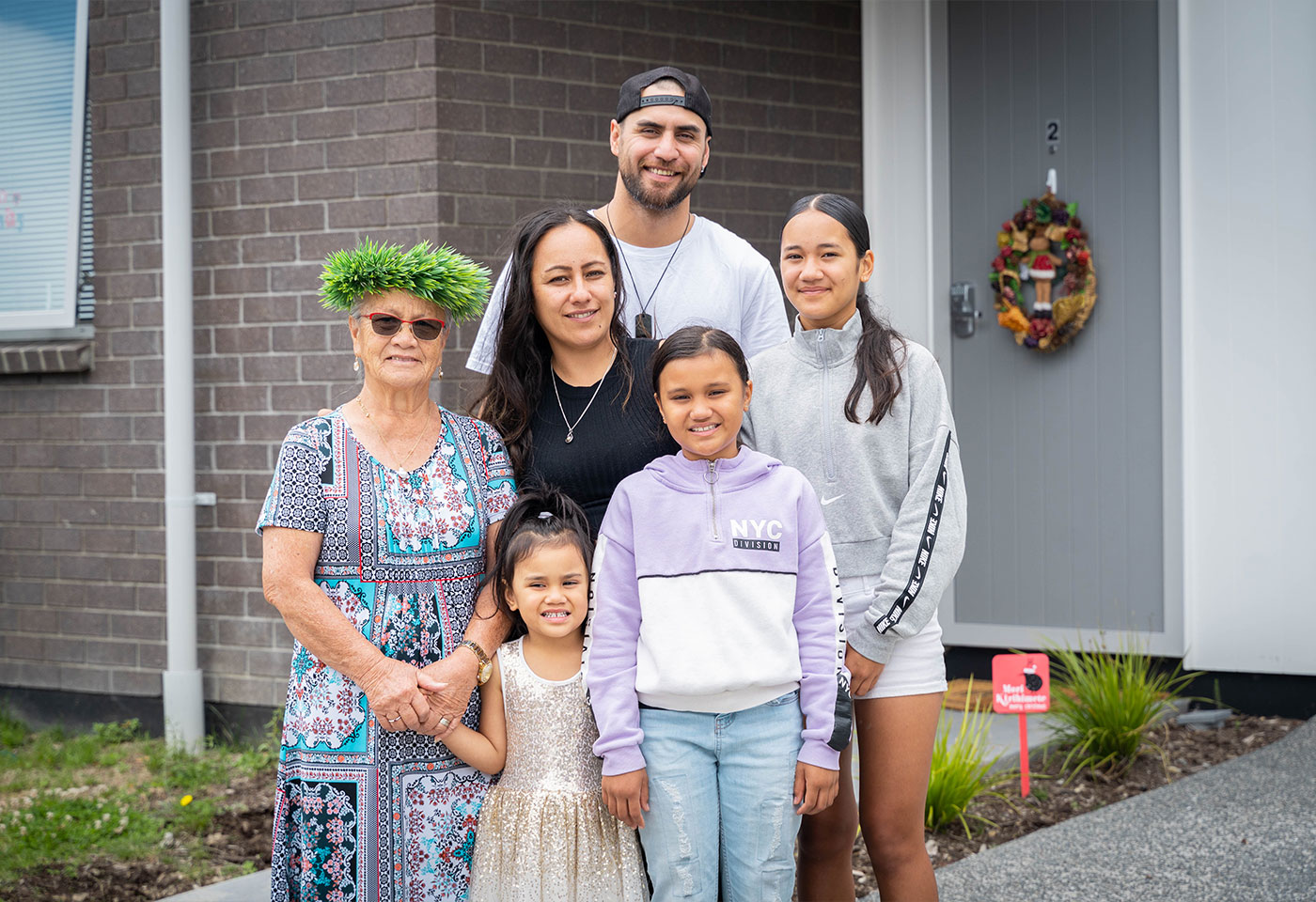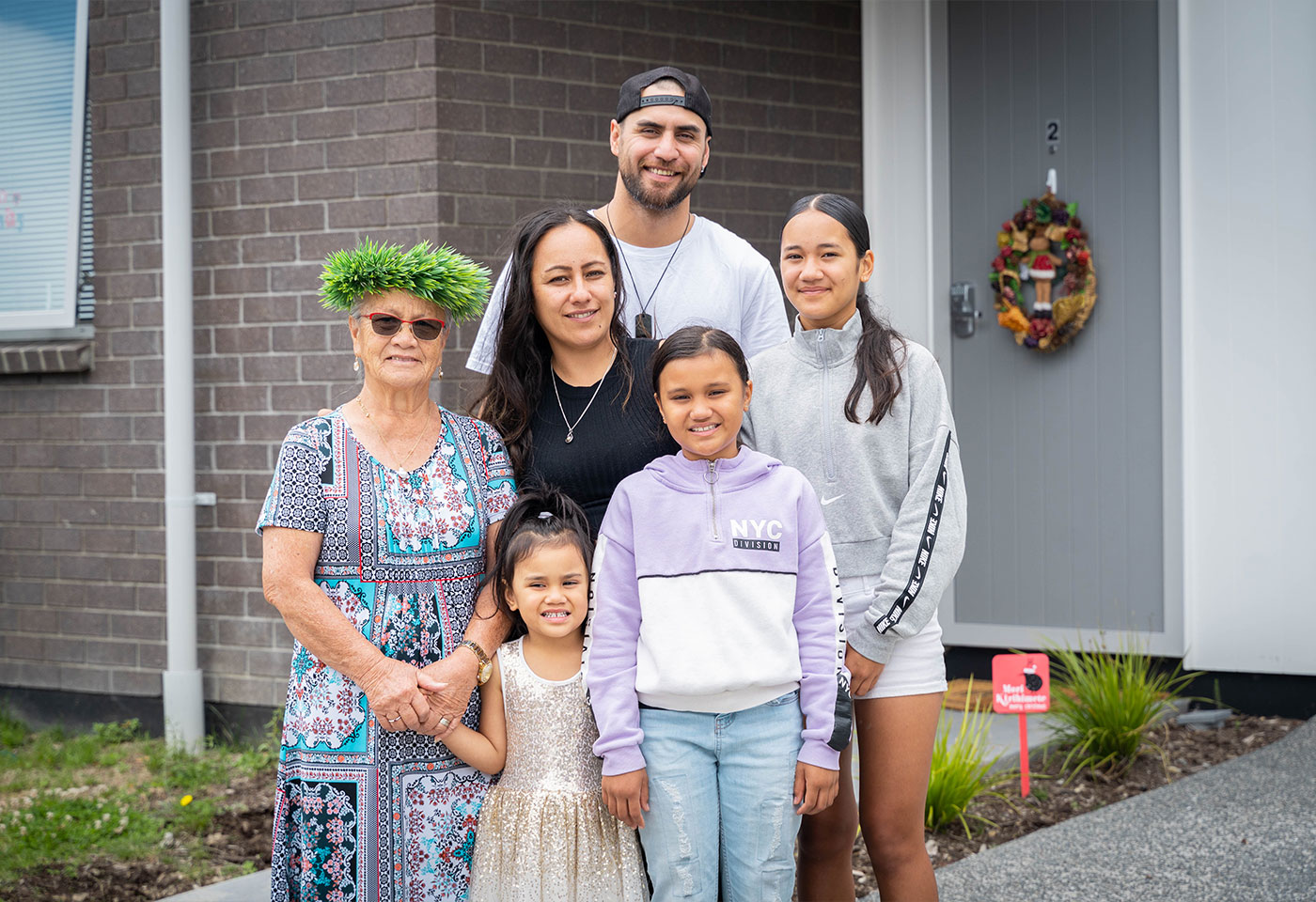 Three generations of the Makoare, Tanga and Temata whānau are living happily in a brand-new a ff ordable home in Point England.
Samantha Makoare moved into the brand new four-bedroom home with her partner Brian Tanga their daughters Payton, Tayla and Harley and Samantha's nana Moepai Temata as part of Tāmaki Regeneration's OWN IT programme.
"It was a push from my dad to put our names down that got us into the OWN IT programme. I didn't think we would ever be able to buy a house in Auckland," Samantha says.
Samantha's dad is Tāmaki community leader Chris Makoare and her mum is born and bred local Theresa Temata.
The whānau chose the Co-Own It option, which sees the new owners buy an average of 70% of the affordable home and Tāmaki Regeneration takes about a 30% stake. The owners then buy back Tāmaki Regeneration's share over time.
First home buyers with a strong Tāmaki connection who have a household income of between $85,000-$130,000 are eligible to apply for a Co-Own It home.
Samantha and Brian put their names down to buy an OWN IT home in 2018. But first they had to complete the OWN IT financial workshops, which offer great insights into buying a first home.
"The OWN IT workshops opened our eyes to how to save. Saving meant we were accountable for what we spent.
"The home buying process showed us how debt can affect you."
Before moving into the new place, the whānau were living with Samantha's dad.
"We had only ever lived with my dad. Now the girls have their own rooms and are responsible for keeping their own spaces clean.
"Our older girl, Payton, has her own room for the first time ever. She can close the door, have meetings for her school and not have to worry. Our other two girls, Tayla and Harley, share a room. They're 9 and 4."
Having their own space has also made a big difference for Brian.
"Until now, he's only ever lived with his family and my family. That ownership feeling gives us that responsibility to do things like go outside and look after the garden."
Samantha, who has lived in Tāmaki her for most of life, says moving into their new home through lockdown was tricky.
"We couldn't get everyone over to help, so we had to move in over about a week."
But the contactless handover of the property from Tāmaki Regeneration's affordable housing team was very easy, she says.
"We wanted to hug Selina, who dropped o ff the keys to us, but had to settle for a wave."
And they found a modern way to meet the new neighbours, which includes several other Co-Own It whānau in the Hinaki development.
"We had a neighbour's Zoom session. We have to be able to wave and not feel awkward."
Samantha's advice to local people looking into home ownership is simple.
"Just do it! You never know until you put your name down. We didn't think it would be possible.
"It's very cool to see people you know in the community achieve their home ownership goal.
Tāmaki Regeneration general manager John Chapman, who leads the affordable housing programme, says it's awesome three generations of local T ā maki whanau are living in the same home.
"This is what the OWN IT programme is all about – creating home ownership opportunities for future generations of T ā maki whānau.
"We're looking forward to building 1500 more OWN IT homes in the next 20 years, so more T ā maki whānau can realise their home ownership dreams."
NANA LOVING LIVING WITH GRANDKIDS
Another great outcome from the whānau buying the home, was nana Moepai Temata could move in with her family, freeing up her Tāmaki Housing public home for another whānau to live in.
"We decided we would take my grandma with us into the new home. Nana didn't want to live by herself and she's close with my girls, so it was a perfect option.
"Nana was happy to give her Tāmaki Housing home back, but also sad as that's where grandad died. Nana's lived in GI since she came over from Rarotonga when she was 19.
"My nana has also got her own space, which includes a little garden. It's great that nana isn't living alone anymore. It's also really nice that the kids get nana's attention and her cooking every now and then too."