Support Local: Peach's Hot Chicken
July 10, 2020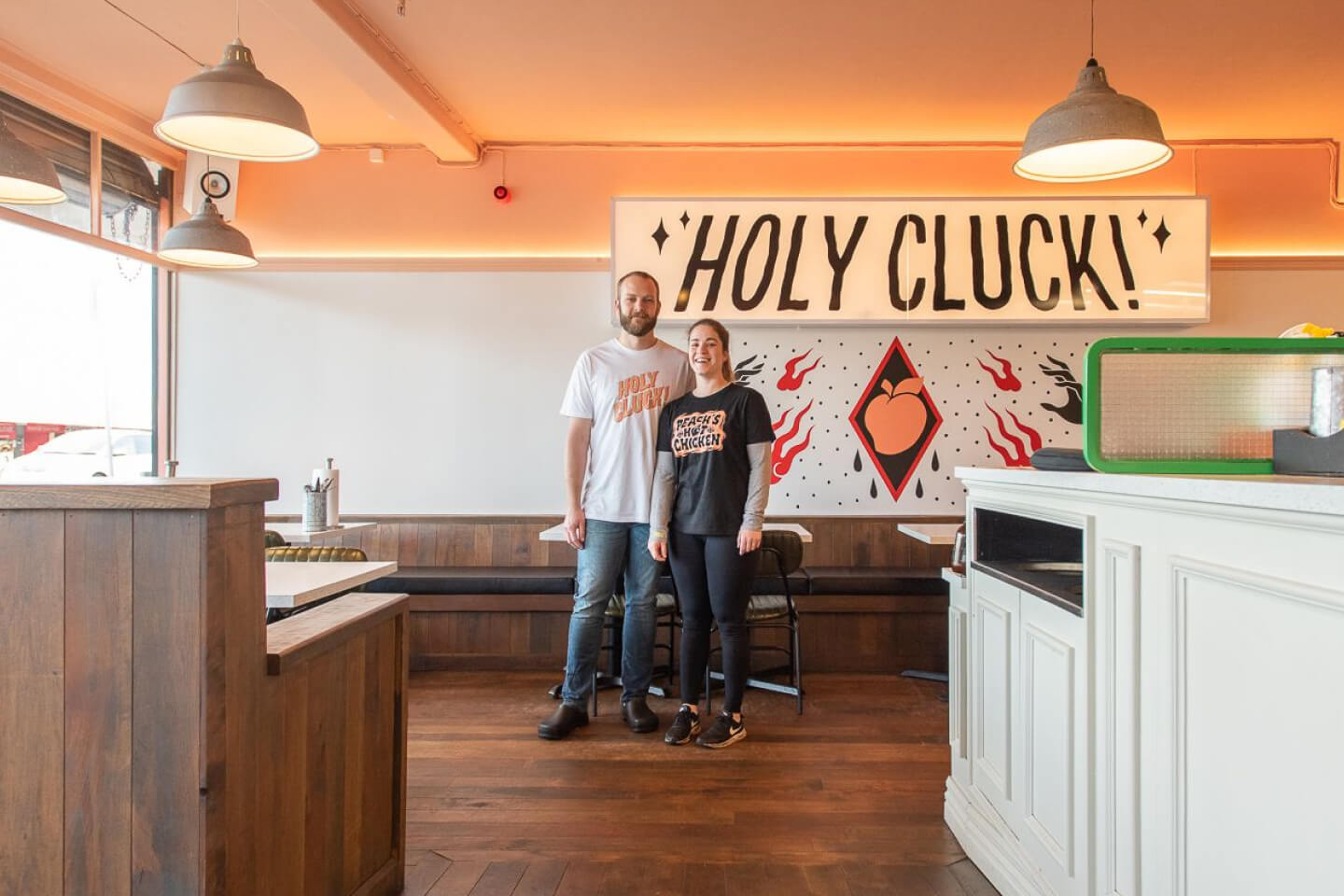 Support Local: Peach's Hot Chicken
Meet Alex and Olivia, owners of Peach's Hot Chicken in Panmure. Four years local. We've been open in Panmure for eight months now and we love it. We were already sold on the area, having lived here for four years - and Olivia for longer than that - but it's even better now having no commute to work at all. We've been so well received by the community and already have several groups who come in without fail every week for their fried chicken fix. It's so nice to see the same faces regularly. Makes us feel like we are involved and part of the community.
Peach's Hot Chicken was originally a Food Truck - Alex is from Tennessee so has grown up around good fried chicken and when we started the truck, no one was doing traditional Nashville Hot Chicken anywhere. While it took us a while to fully hit our stride, once people got into it we had a really loyal following and by the end of our time doing markets and events we could never make enough for the demand, so we knew we had to open up a dine in restaurant and just loved the idea of Panmure as a location.
Panmure has always been a treasure trove when it comes to good food and it just seems to be getting better and better. When we were fitting out the restaurant we pretty much lived on the Hand Pulled Egg Noodles from Xi'an Food Bar - we ordered that number 37 most days! There's also great Malaysian at Blossom Court, the best peking duck at Beijing Duck, great Filipino food at Kalye Manila and now the experience is complete with a Beer Spot [craft beer joint] having opened just up the road. It's kind of cool how we all support each other too - we regularly eat in all the other restaurants and buy our bread from the dairy two doors away, and we often see other Panmure shop owners in here too. It's such a great community to be part of. Coming from the States, Alex is still always so blown away at how accommodating and generous Kiwis are.
It's not just the food though. We regularly walk round the Panmure Basin or sometimes up Mount Wellington or around Point England reserve. There's so much beauty so close. We thought long and hard about where to set up shop, and Panmure came out the best, no matter which way we looked at it. It was affordable, truly multicultural, our staff could get here easily on public transport (we have an amazing crew, many who have been with us from the start) there's plenty of parking, and the growth in this area is phenomenal. It's been amazing to find somewhere that makes good business sense but is also somewhere we love to be every day.
Make it count here at home
There are around 900 businesses in Tāmaki (Glen Innes, Pt England and Panmure). Together they create community, character and local jobs. Whenever you can, shop where it makes the most difference.