New home life-changing
Getting mortgage ready has helped the Moala whānau achieve their dream of buying a brand-new home.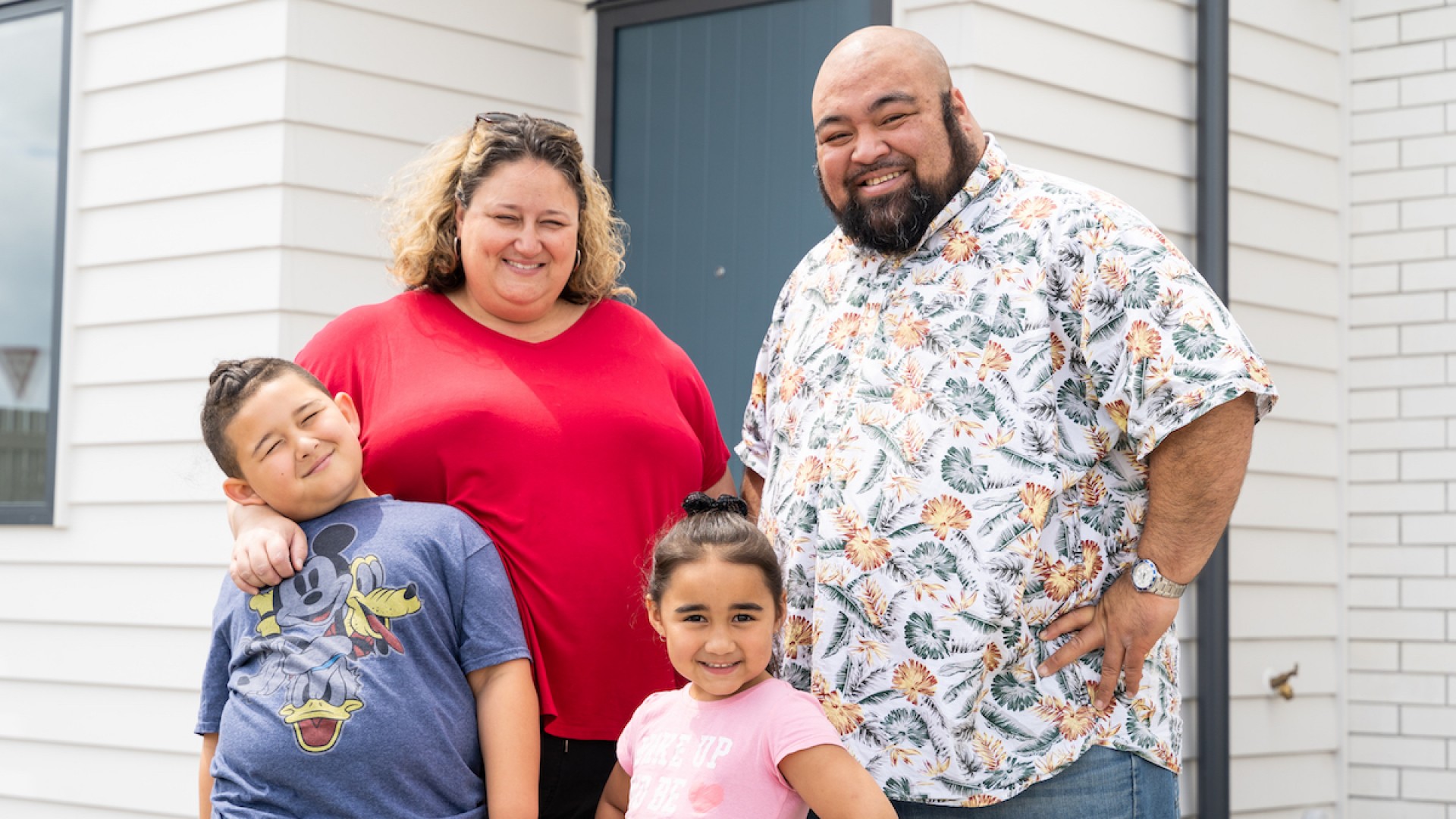 New home life-changing
Getting mortgage ready has helped the Moala whānau achieve their dream of buying a brand-new home.

Boaz and Angela Moala, along with their two children Cayden (7) and Caylee (5), moved into their new three-bedroom home in Glen Innes recently as part of Tāmaki Regeneration's (TRC) affordable housing programme.

"Now we don't have any fears that someone is going to knock on our door and tell us they're going to sell the house, which was the worry when we were renting," Boaz says.
"The security means it brings some stability for us and our children."
The Moala whānau are part of the TRC shared ownership programme, where families take at least a 70% share in the home, while TRC takes up to a 30% share, which is paid back over time. Owning their own home has offered the Moala whānau freedom they wouldn't otherwise have had. "Now we have something for our children and their financial future too."
Both Boaz and Angela have strong links to Tāmaki. Angela has been a teacher at Point England School for several years and Boaz was a pastor at a church in Glen Innes. His role as a community programmer at Auckland Council means he helps run the Panmure Community Hall. "My wife and I are so involved in this community, having a house in Tāmaki is amazing. Our kids go to school here, our friends and jobs are here."
Previously the whānau lived on the fringe of Tāmaki, renting a home in Pakuranga. "Our children love it – they finally have their own rooms." The Moala whānau have also been getting to know the neighbours, including some other families involved in the shared ownership programme. "One of our neighbours works with me at school and some of the kids across the road I've taught," Angela says. "All of these connections are awesome."

And the whānau are encouraging more Pasifika people to look at applying for the programme. "Unless you ask the questions about whether you're eligible for programmes like this, you'll never get the answers," Boaz says. "It was our responsibility to make sure we were mortgage ready and have a plan."

Afoa Tevita Malolo – TRC's general manager – social transformation and strategic partnerships, says it's exciting whānau like the Moalas are able to make their home ownership dreams come true through the programme. "By expanding our affordable housing programme over the next 20 years, more local whānau will be able to secure their future through the benefits of home ownership."
For more info - See our website for more information on our affordable housing programme.